Despite living a few hours' drive from Sin City for most of my life, I'd never been much of a Vegas person. Between the crowds and the heat (not to mention my being too risk-averse to be much of a gambler), I'd largely failed to see its appeal. That all changed over the weekend, when my husband and I visited a good friend who is performing in Celine Dion's show at Caesar's Palace. A definite highlight was the dinner we enjoyed on Saturday night at Mesa Grill, Bobby Flay's restaurant across the way from Celine's show. Everyone's favorite dish was
this grilled corn salad
. I couldn't wait to recreate it at home.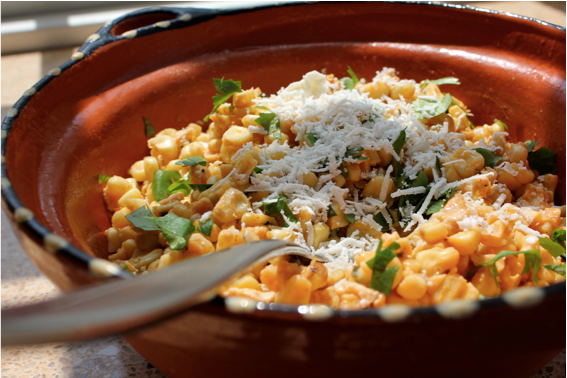 Though packed with flavor, this recipe resulted in something quite a bit lighter than the Mesa Grill original. But I'll take what I can get here. For one thing, who could possibly expect the host of "Throw Down with Bobby Flay" to reveal all of his trade secrets? Plus, this version is surely more dietetic. It contained a fraction of the creamy, cheesy goo that made the Mesa version so ridiculously filling. (And that was after I doubled the quantity of cojita cheese and creme fraiche indicated.) I suppose it's true that what happens in Vegas stays in Vegas - kitchens included.
Musical pairing: John Adams'
Naive and Sentimental Music.
The second movement, "Mother of the Man," has always reminded me of clouds drifting slowly over the desert landscape. I thought of it often while making the drive from LA to Vegas.